In today's digital age, social media has become an integral part of our lives, connecting us with people, experiences, and moments from around the world. Among the many platforms that have made their mark, Instagram stands out as a vibrant and dynamic space where individuals and businesses alike come together to share their stories through captivating images and videos.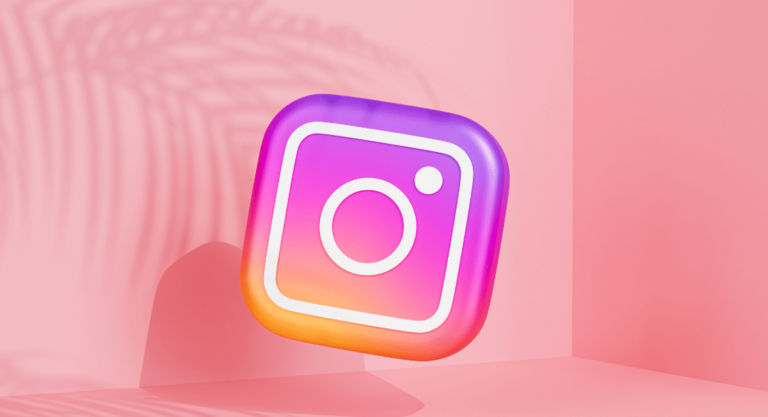 This introduction serves as your gateway to the world of Instagram, where visual storytelling takes center stage. With over a billion users worldwide, Instagram has evolved into more than just a photo-sharing app and it's a cultural phenomenon that celebrates creativity, fosters connections, and provides a platform for self-expression.
Backup And Download Your Instagram Account's Data Before Deletion
Instagram allows you to manage your data and download it if you decide to delete your account. Backup your photos, posted stories, reels, archived posts, and other data in case you need it in the future. Remember – once you delete your Instagram account, Instagram's Data Download tool will not be accessible anymore.
Here's a step-by-step guide on downloading your Instagram data on the Instagram app and website.
For the app
Go to your profile, tap the three lines on the top right, and open "Your activity."
Select "Download your information."
Enter your email address and click "Request download."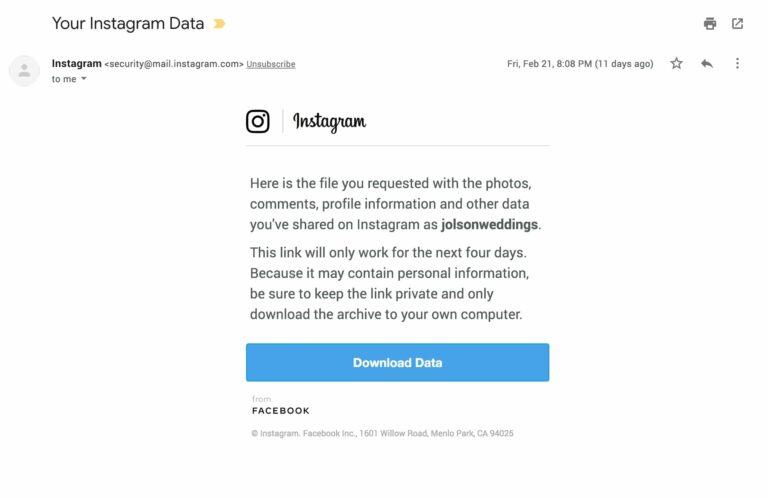 For the website
Click "More" on the bottom left and tap "Settings."
Select "Privacy and security."
Select "Request download."
Enter your email address and confirm.
Once you request the information, it might take up to 14 days for Instagram to email you the download link.
How To Delete Instagram Account On Mobile?
Step 1
Tap the menu icon in the top-right corner of your profile and tap "Settings."
Step 2
Tap "Accounts Center" > "Personal details."
Step 3
Tap "Account ownership and control" > "Deactivation or deletion."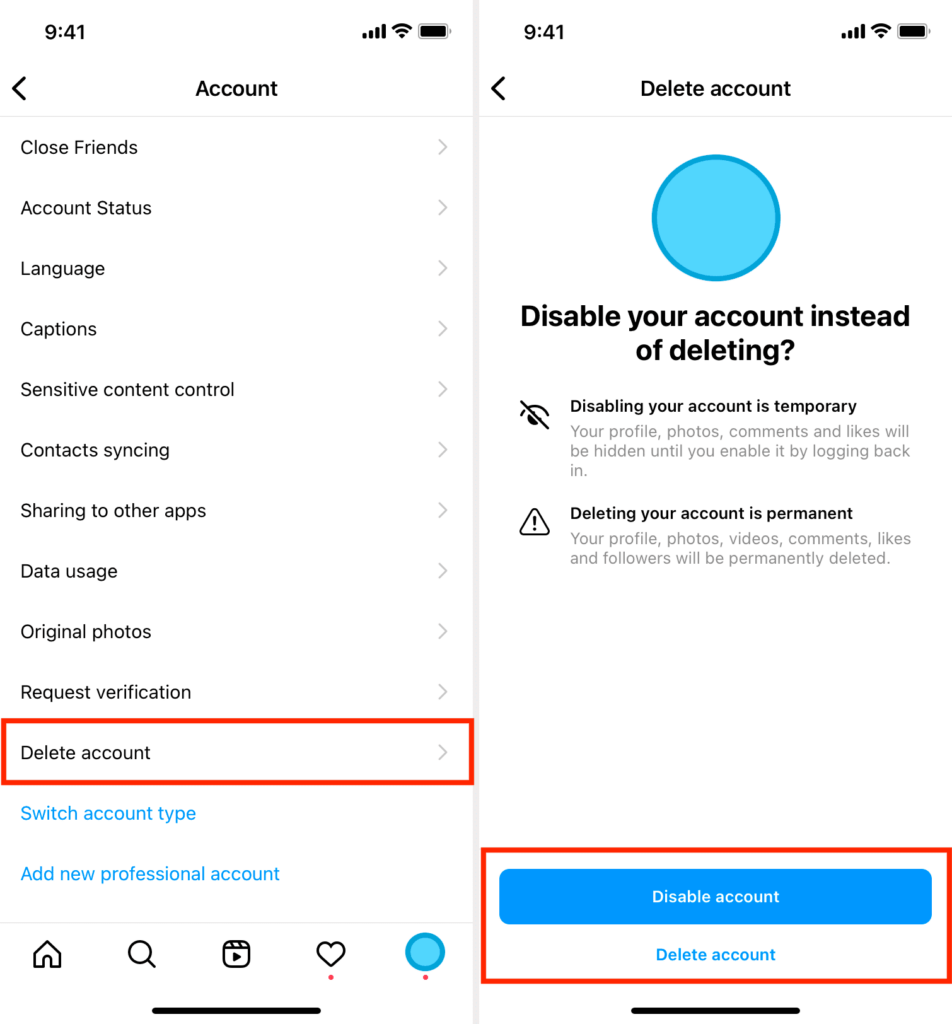 Step 4
Select the account you want to delete.
Step 5
Tap "Delete account" > "Continue."
How To Delete Instagram Account On A Web Browser?
Unfortunately, Instagram doesn't allow you to delete your account on its Android and website versions. To delete your Instagram account, you need to access the Instagram account deletion page on your mobile web browser or computer.
Step 1
Log in to your account.
Step 2
Choose a reason why you want to delete your account.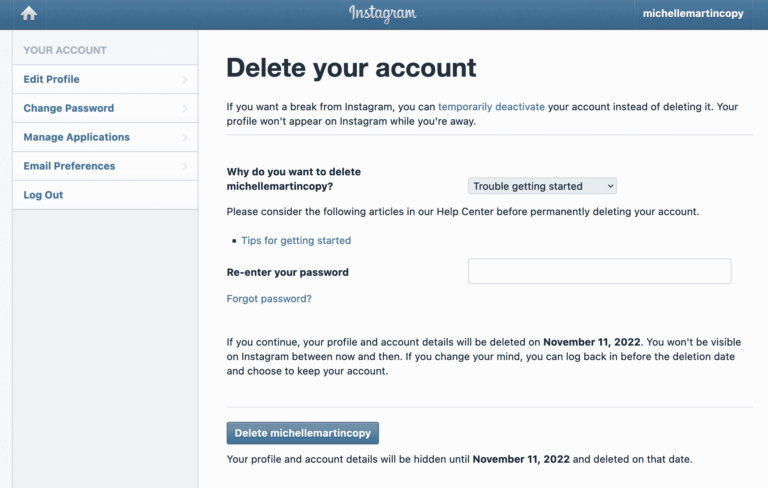 Step 3
Re-enter your password.
Step 4
Select "Delete account."
Deactivate Your Instagram Account Temporarily
If you want to take a break from Instagram, you don't have to permanently delete your account. Suspend your profile and come back whenever you feel like it. Follow the steps below to deactivate your Instagram account temporarily.
1. Click on "Profile" on the left.
2. Select "Edit profile."
3. Select "Temporarily deactivate my account."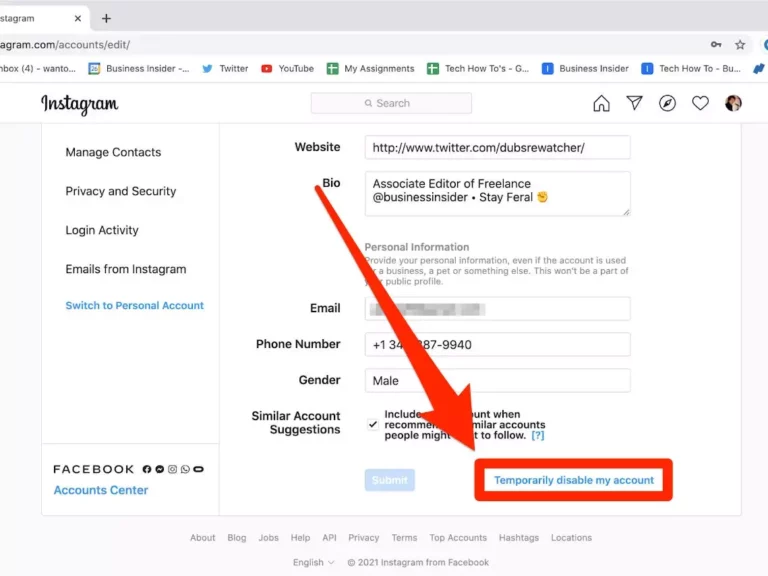 4. Choose a reason.
5. Re-enter your password.
6. Confirm by clicking "Temporarily deactivate account."
Conclusion
Deleting your Instagram account is a significant decision, and the process is designed to be thorough and deliberate. Instagram provides users with two options: temporary deactivation and permanent deletion. Temporary deactivation allows you to take a break from the platform and return later without losing your data, while permanent deletion erases your account and all associated data permanently.
Before proceeding with account deletion, it's advisable to download your data, ensuring you have a copy of your posts, comments, and other account information. Additionally, inform your followers or friends if you decide to permanently delete your account, so they can stay connected with you on other platforms.
Related:-
1. Instagram's Business Tools for Your Business
2. Why Is Instagram The Best Social Media Platform For Businesses?
3. How to get free and real Instagram followers and likes?
4. How To Write Engaging Instagram Captions To Market Your Product