Are you looking for a method to do data recovery online for free? Is there any reliable, easy-to-use free data recovery software online? You have come to the right place because you can download the safe and free data recovery software from MiniTool to recover the deleted files and lost data from USB pen drive, mobile memory card, computer hard disk, damaged/formatted/ inaccessible hard drive, and so on.
Part 1. Is Data Recovery Online Feasible?
Some people want to recover deleted files or lost data from USB, memory card, hard disk. Or you may want to rescue important data from damaged storage devices without using any software. Then you may search online to find a free data recovery method, as a result, you may find some local data recovery services near you, and will need to find that store and take your storage device to the service center for help.
If you wish to find an online data recovery tool to recover data online for free without using any software, you will not succeed. Why is not possible to conduct a data recovery online without using the software.
No matter you use the best data recovery software or seek help from the data recovery services to recover data from the USB pen drive, memory card, or hard disk, you must have permission to access your storage device.
Even if you go to a specialized data recovery store, the IT technicians will need to use some professional data recovery tools and techniques to restore the deleted/lost data. That being said, it is impractical to recover data online without the help of software. Finding out the safe, easy-to-use, free data recovery software is a shortcut to do data recovery from USB flash drive, SD card, HDD, SSD, etc.
Part 2. Free Method to Recover Data from USB Pen Drive, Memory Card, Hard Disk
When you search for the best free data recovery software online, you can find tons of results. To ensure the highest success rate of data recovery, it is advised that you choose a clean, intuitive, and multifunctional program. We would like to recommend MiniTool Power Data Recovery.
This data recovery software only requires 3 simple steps to easily recover data from the computer, USB pen drive, SD/memory card, external hard drive, CD/DVD drive, and so on. Its free version allows you to recover up to 1GB of data without any charge.
You can use MiniTool Power Data Recovery under many different data loss situations, for instance, mistaken file deletion, system crash, computer error like blue/black screen, malware/virus infection, hard drive error, etc. Before recovering the data, the software will scan your device, but all your data remain safe.
Download MiniTool Power Data Recovery Free on your Windows 10/8/7 computer, follow the 3 steps and you can recover data from many storage devices.
Step 1. Run the Free Online Data Recovery Software
Free download and install this best data recovery software on your computer, you can double-click the software to enter into its main interface.
Step 2. Scan All Data on the Device
In this step, please choose which device you want to recover data from.
This PC: If you want to recover deleted/lost data from your computer hard disk, you can select the "This PC" feature. After that, choose a hard drive partition from the right window. MiniTool Power Data Recovery will also list detected lost partitions and the unallocated space.
Removable Disk Drive: This feature is designed to recover data from the USB flash drive or phone/camcorder SD/memory card. Click this option and then select the USB drive from the window on the right side.
Hard Disk Drive: If you connect your external hard drive to the computer, you can see the device is listed in the software.
CD/DVD Drive: If you need to recover data from DVD/CD, please insert your CD/DVD into your computer DVD-ROM or connected external DVD drive, and then click this option.
After you choose the device on the software UI, you can click the "Scan" button to start data scanning.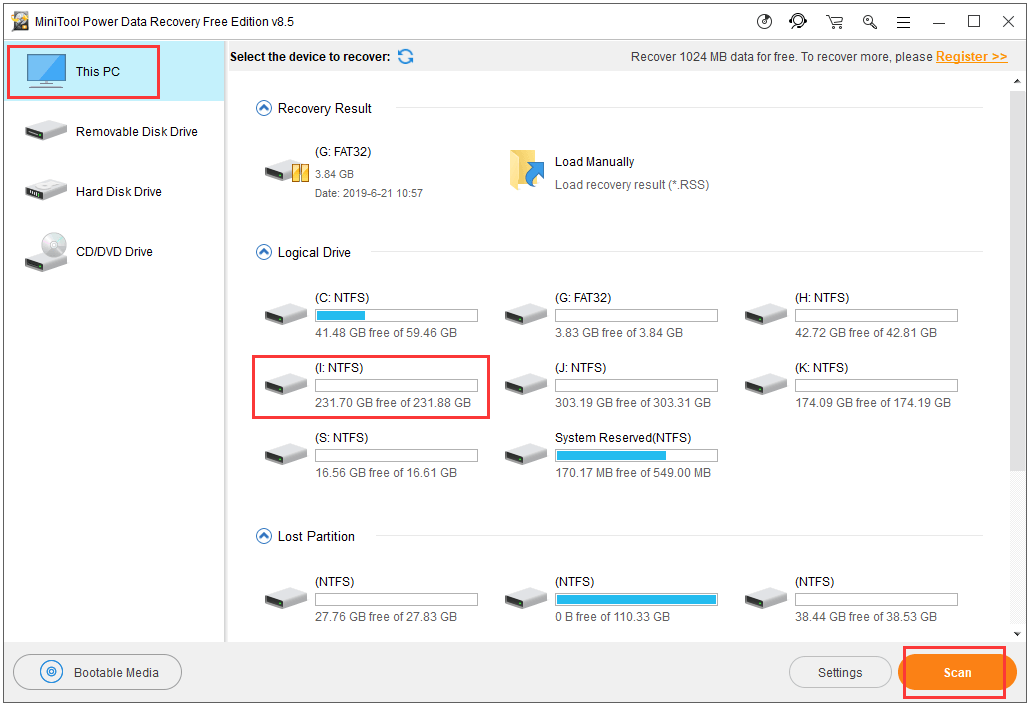 Step 3. Find the Files and Save them to a Different Location
When the scan process is finished, MiniTool Power Data Recovery will display all data and files in the partition or drive that you scanned, including all the deleted and lost files that are recoverable, as well as normal data. Check all the files you need in the scan result window, and click the Save button.
Important: MiniTool software will ask you to select a destination path to store the recovered files. Remember that the new destination path should be different from the original path, and should not be the drive that contains lost data. Otherwise, data overwriting will make lost data unrecoverable.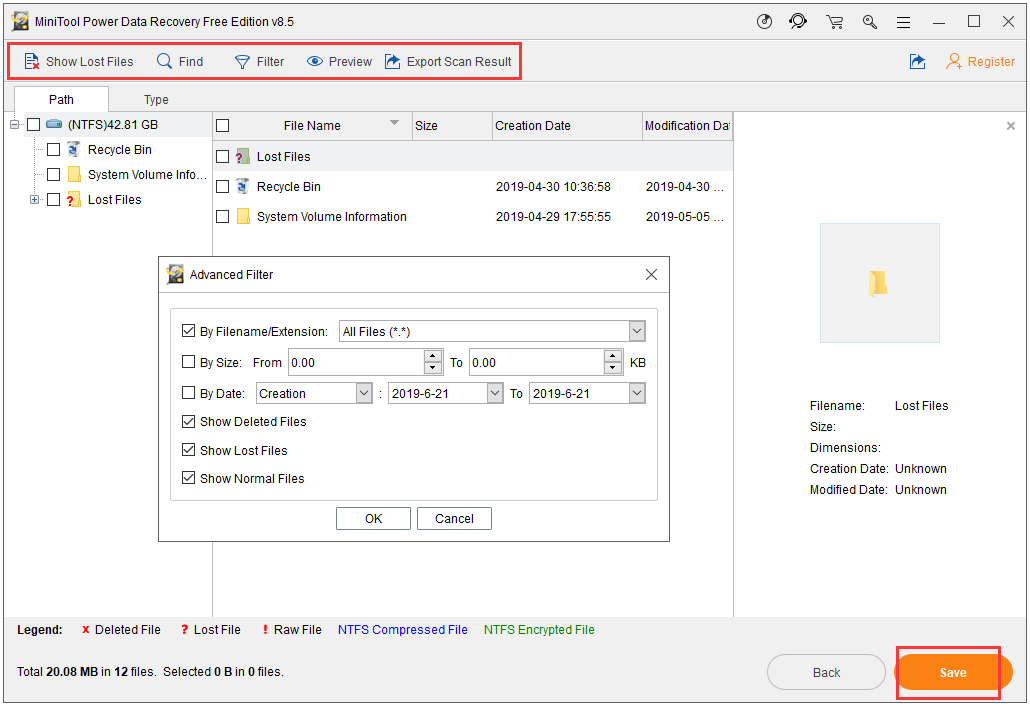 There are some other useful functions in MiniTool Power Data Recovery.
Preview: You can preview up to 70 types of files in the scan result. This will help you decide if you want to recover that file or not.
Filter: List scan result by file extension, file size, file creation, and modification date, etc.
Find: If you still remember the name of the file that you need, you can click the Find button at the toolbar, and then type a part of the file name or the correct file name. That will save you a lot of time to find the target file.
Show Lost Files: Click the Show Lost Files icon at the toolbar and MiniTool software will only display lost files in the scan result window.
Part 3. Some Tips for Recovering Data
3.1 External hard drive recovery and USB data recovery
If you mistakenly deleted some files from the USB pen drive or external hard drive, you are supposed to stop using that drive immediately and do not store any new data into it. If you want to retrieve them, you need to use the professional file undelete software.
Pay attention that if you continue to store new data on the drive, that will cause the old data to get overwritten. Once your data has got overwritten, it is not recoverable by any means.
3.2 Computer data recovery
If you mistakenly deleted some files and did not empty the Recycle Bin, you can find them in the Recycle Bin. If you have emptied the Recycle Bin and cannot find anything there, you need to use data recovery software to recover deleted files.
For those who have computer problems such as system crashes, blue screen errors, MiniTool Power Data Recovery can help you find and recover your important files with little effort. If your Windows 10 PC can't boot, the software can help you to create bootable media to boot the computer and then and recover your important files and data.
3.3 Mobile data recovery
If you want to perform data recovery for Android devices, please unplug the SD card in your Android device, use a USB card reader to read it, and then use MiniTool Power Data Recovery to recover data from the SD card. The software even supports the corrupted SD card. Alternatively, you can directly use MiniTool Mobile Recovery for Android Free to recognize the data on your Android mobile devices and recover data.
The memory card can't be taken out from iPhone or iPad, Apple users can turn to MiniTool Mobile Recovery for iOS Free for recovering data.